With every season change, I lament the state of my wardrobe. To be honest, I have abused it. I've had four babies in three different seasons so sizing is just a nightmare, not to mention style changes which affect me pretty hard since I tend to latch onto a trend only to realize later that it totally doesn't suit me. At all.
So I perennially vow to streamline my purchases and only buy looks that are classic and versatile. Then I get my heart set on something that doesn't fit that category and I get derailed all over again.
Enter this year's nominee: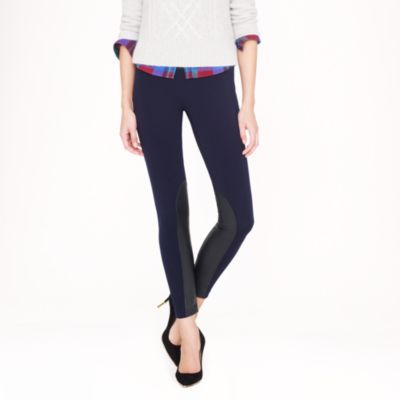 J.Crew Pixie jodhpur pants
I know that to most people J.Crew is not exactly the cutting edge of trendiness, but when your fashion sense is shaky, at best, J.Crew shines like a beacon of hope. (It simultaneously causes your wallet to burst into flames as well.)
And these pants just kill me. I love the navy with the black leather. Only one problem though: they WON'T go on sale. I've been watching and waiting but no luck.
But don't worry friends, I will own these. Even if it is the only article of clothing that I buy this fall. And I might regret it next fall when they don't fit or I don't like them anymore (doubtful) but I'm not going to think about it too much.
I hope your weekend is full of crisp air, falling leaves, and pumpkin spice lattes. And a kick-arse new pair of pants.
Happy Friday!
-Alissa
P.S. I'd take those black heels in a hot minute, too.